At the University Hospital Zürich, blood gas samples are required every day to provide care for critically ill patients. Radiometer's 1st Automatic solution, the AQURE point-of-care management system and 28 decentralized blood gas analyzers optimize the process while increasing patient safety. 
It's important to have accurate blood gas results readily available when and where needed to treat critically ill patients in departments such as the cardiovascular surgery ICU.
The reliable and easy-to-use 1st Automatic blood gas solution with automatic mixing and sample analysis saves valuable time for clinical staff and reduces the risk of patient-sample mixups: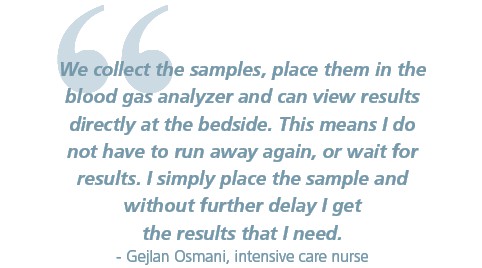 "We collect the samples, place them in the blood gas analyzer and can view results directly at the bedside. This means I do not have to run away again, or wait for results. I simply place the sample and without further delay I get the results that I need", says Gejlan Osmani, intensive care nurse.
By automating critical steps to eliminate typical pre-analytical errors, the 1st Automatic solution ensures that quality of point-of-care testing is as high as testing done in the lab.
Watch the video from University Hospital Zürich of how point-of-care testing creates workflow efficiencies.