The Virgen de la Concha Hospital in Zamora, Spain, is part of the Zamora Care Complex. Their primary mission is to provide outstanding medical expertise an leadership to those living in the province of Zamora. This innovative facility has also garnered an outstanding reputation for conducting breakthrough clinical research. 
As a Specialist Doctor in Emergency Medicine, Dr. Miguel Ángel Folgado has been practicing in Virgen de la Concha's emergency department for 23 years. A primary area of his expertise involves treating acute COPD patients who are admitted to the emergency department experiencing respiratory failure. 

"Transcutaneous monitoring gives us a huge advantage because it's imperative to have continuous CO2 readings when acute COPD patients with respiratory failure come into the emergency department in a critical state," says Dr. Folgado.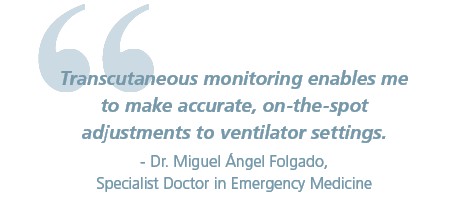 "If we decide to put them on non-invasive mechanical ventilation it is important to find out if CO2 levels are headed downward, and transcutaneous monitoring enables us to assess this rapidly." The primary challenge with non-invasive mechanical ventilation is that physicians need to know exactly how to adjust settings to meet a patient's specific needs at that moment.

Blood gas samples do not provide continuous readings. This makes it very difficult to quickly manipulate ventilator parameters to achieve better outcomes, which can be done with great efficiency when using transcutaneous monitoring.


"Transcutaneous monitoring is essential to helping me overcome this challenge," reports Dr. Folgado. "It enables me to make accurate, on-the-spot adjustments to ventilator settings with a primary focus on its trend waves, which are flow, volume and pressure."
Dr. Folgado further states, "Transcutaneous monitoring really improves patient outcomes when using non-invasive mechanical ventilation. It allows me to make key assessments that I wouldn't be able to make if I had to always wait for blood gas samples."  

In addition to improving patient outcomes, transcutaneous monitoring also provides Dr. Folgado with a high level of assurance and peace of mind. "Transcutaneous monitoring enables me to make quick, confident decisions that you can only make when you're working with continual, real-time data." 

He adds, "It's a very relaxing and calming feeling from a professional point of view because transcutaneous monitoring gives me the tool I need to quickly have an image of what's going on with CO2 levels, which is critical with COPD patients suffering from respiratory failure."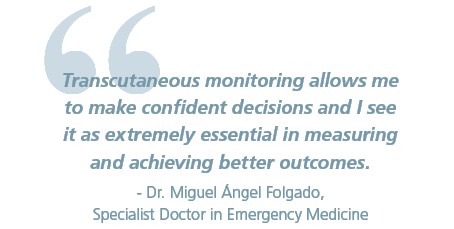 Dr. Folgado also points out that transcutaneous monitoring has distinct advantages for all patients on noninvasive ventilation who are sleeping. "Transcutaneous monitoring is very important for overnight tracking of patients because while they sleep they are very prone to hypoventilation episodes. By monitoring and controlling CO2 throughout the night with mechanical ventilation we can control episodes of hypoventilation." 

He goes on to say, "The big advantage here is that with transcutaneous monitoring we don't have to wake patients and puncture their artery for blood gas analysis and wait an hour to get results. Instead, with transcutaneous monitoring we know immediately if a patient develops hypoventilation and we can make a very fast treatment decision."  
Dr. Folgado believes that transcutaneous monitoring must be used with every patient put on non-invasive mechanical ventilation, not only in the emergency room – but in other units throughout the hospital. He concludes his thoughts by returning to the core benefits that transcutaneous monitoring affords him as a specialist in emergency medicine.  
"Transcutaneous monitoring allows me to make confident decisions and I see it as extremely essential in measuring and achieving better outcomes when utilizing therapeutic non-invasive mechanical ventilation. It allows for fast titration and since it is non-invasive there are less potential complications for patients."