Procalcitonin, a 116 amino acid polypeptide prohormone of calcitonin, has emerged as the most sensitive biomarker to aid diagnosis of bacterial sepsis. Synthesized primarily by the C-cells of the thyroid gland, and to a lesser extent in the neuroendocrine tissue of other organs such as the lungs and intestines, procalcitonin is normally present in the blood at a very low level.
However, production can be stimulated by inflammatory cytokines and bacterial endotoxins, causing larger amounts of procalcitonin to be released in response to infection, particularly systemic bacterial infections.
This allows procalcitonin levels to be used as a biomarker of inflammatory response, providing a risk indicator for sepsis; the higher the level of PCT, the greater the likelihood of systemic infection and sepsis [1].
Adapted from Harbarth S et al. Am J Respir Crit Care Med 2001, 164: 396-402
Because of its high sensitivity for most types of infections [2], procalcitonin is widely acknowledged as the most sensitive biomarker to aid diagnosis – or rule-out – of bacterial sepsis, with a high negative predictive value above 95 % [2, 3]. Global guidelines also recommend its use as a tool to optimize antibiotic treatment.
Compared to C-reactive protein (CRP) – another biomarker frequently used to aid diagnosis of sepsis – procalcitonin has a shorter half-life and concentrations increase sooner in the event of bacterial infection [4, 5].
These favorable kinetics potentially enable earlier diagnosis of sepsis and better monitoring of its progression.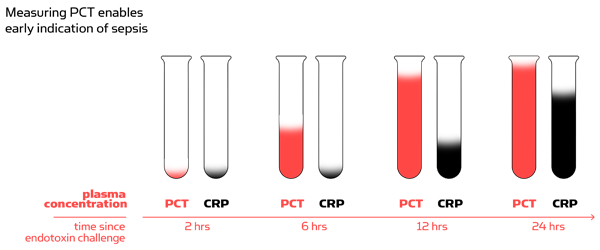 Adapted from Kumar Meisner et al., Crit Care 1999, 3:45-50
When procalcitonin levels are elevated and sepsis is suspected but not confirmed, antibiotic treatment should be considered following analysis of a blood sample to identify the presence of any bloodborne microorganisms. This will typically involve a blood culture, a time-consuming procedure that may take several days and often does not reflect systemic inflammation or the onset of organ failure [6].
Radiometer has developed a rapid and easy-to-use PCT *) test to aid the diagnosis of sepsis, which provides test results within 21 minutes.
*) Not available in the US