The pH, pCO2 and base excess from the cord arteries provide valuable objective evidence of the metabolic condition of neonates at the moment of delivery, which has assured a role for the blood gas analyzer in the hospital's delivery rooms and obstetrics clinics.
The World Health Organization (WHO) estimates that between 4 and 9 million newborns globally suffer from asphyxia each year, leading to an estimated 1.2 million deaths and more than a million infants developing severe disabilities. WHO also estimates that 29% of global neonatal deaths are caused by birth asphyxia [1].
Cord blood sampling can be performed to quickly determine whether a neonate is suffering from asphyxia and which subsequent measures should be taken.
What is the clinical relevance of the determination of the acid-base values of the cord blood of the newborn, and what are acceptable values? 
How and when should the sample be collected?
Why should you collect a blood sample from both a cord artery and the cord vein?
Which parameters are important to measure: pH, pCO2, base excess, lactate...?
Should cord blood gas analysis be reserved for selected neonates or should it be applied for all neonates?
What is the value of cord blood gas on record for all neonates in case of litigation?
What do your national guidelines indicate and how do they compare to guidelines around the world?
 
Get the answers in Chris Higgins' article 'Umbilical-cord blood gas analysis' published on acutecaretesting.org.
Improving outcomes with the NeoOne solution
Immediately after birth, cord blood gas testing is performed to determine the acid-base status of the neonate at the moment of delivery in order to detect birth asphyxia. The cord blood gas result can also be used to document quality of care [2] and can prove to be important documentation in case of litigation [3].
Radiometer's unique NeoOne solution, which includes the advanced ABL90 FLEX PLUS blood gas analyzer and safePICO arterial blood gas syringes, provides fast and accurate results on critical parameters for the assessment of the neonate.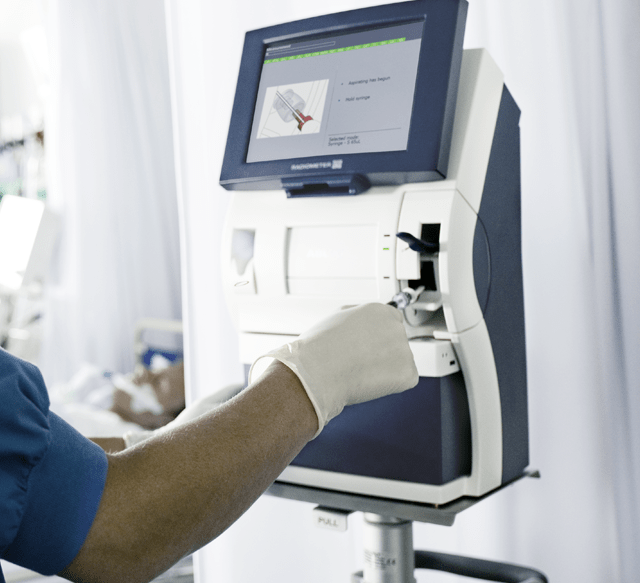 Proven measuring performance means reliable results
Accurate test results on cord blood samples are critical for making well-informed medical assessments of the neonate's wellbeing.
Radiometer's ABL90 FLEX PLUS blood gas analyzer is a state-of-the art analyzer offering a wealth of automated functionalities. The measuring performance of the ABL90 FLEX analyzer series is well proven and backed by solid evidence.
The integrated sample mixer on the ABL90 FLEX PLUS analyzer enables fast and effective mixing of safePICO arterial blood gas syringes. That helps obtain a homogeneous and clot-free sample, which is a pre-requisite for accurate test results and a well-functioning analyzer.
Omo-Aghoja L. Maternal and fetal acid-base chemistry: a major determinant of perinatal outcome. Ann Med Health Sci Res 2014; 41: 8–17.
Perinatal Safety Programme – a quality project in all maternity wards in Denmark] Sikre fødsler – et kvalitetsprojekt på alle fødeafdelinger I Danmark. http://www.regioner.dk/sundhed/kvalitet/patientsikkerhed/sikre+fødsler. Accessed 2014-10-10
Boog, G. [Cerebral palsy and perinatal asphyxia (II--Medicolegal implications and prevention)] Asphyxie périnatale et infirmité motrice d'origine cérébrale (II - Implications médico-légales et prévention). Gynecol Obstet Fertil 2011; 39(3): 146-73.