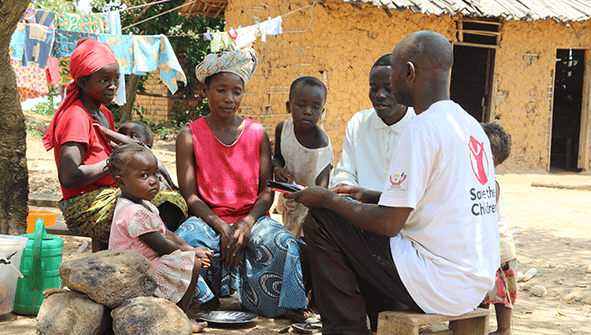 Ebola response team activity in the Democratic Republic of Congo
"At Radiometer, we are committed to improving global health care – through our products and services and certainly also through our charitable donations. Providing access to healthcare to less privileged parts of the world is an integral part of our Corporate Social Responsibility strategy and our contribution to the UN's Sustainable Development Goals, and we are happy to partner with Save the Children on this important cause," says Henrik Schimmell, CEO and President of Radiometer.   
Save the Children's Emergency Health Unit consists of smaller local units strategically placed around the world to ensure fast and rapid response to disasters. The units consist of a combination of health care professionals and other specialists, who work on the ground to save lives. 

Since 2015, the Emergency Health Unit has been deployed 20 times, reaching more than 2 million people and training more than 2,000 health workers. With Radiometer's donation, even more children will receive help: 

"Millions of people are affected each year by conflict and disaster, and it has life-threatening consequences - especially for children and mothers who are particularly vulnerable," says Kristine Mærkedahl Jensen, Humanitarian Director of Save the Children Denmark. "With the donation from Radiometer, we can ensure acute and vital medical care, such as establishing nutrition centers for malnourished children and informing on preventive measures against life-threatening diseases such as Ebola during these critical events. Thus, Radiometer is helping ensure that these children can survive and have a future."
The donation was raised by Radiometer employees through an internal campaign and is part of Radiometer's broader commitment to Corporate Social Responsibility and to the realization of the Sustainable Development Goals. 
About Radiometer 
Radiometer is a leading provider of technologically advanced acute care solutions that simplify and automate all phases of acute care testing. 
Radiometer develops, manufactures and markets solutions for blood sampling, blood gas analysis, transcutaneous monitoring, immunoassay testing and the related IT management systems.
About the Emergency Health Unit (EHU)
You can learn more about the Emergency Health Unit in this video.


Contact
Katrine Rørdam
Senior Manager, Communications & CSR, Radiometer Medical ApS
+45 3029 3331
Katrine.roerdam@radiometer.dk