Located in beautiful Florence, Italy, the Meyer Children's Hospital is dedicated to the production and management of health services for infants, small children, adolescents and their families.

In addition, the facility maintains a focus on the study and treatment of pathological conditions and neonatal diseases and disorders. As the Sleep Lab Director at Meyer Children's Hospital, Dr. Raffaele Piumelli is closely involved in numerous studies that center on sleep disorders in infants and young adults. 

The primary disorders in which he's involved include obstructive sleep apnea, sleep breathing disorders, and congenital central hypoventilation syndrome. Dr. Piumelli is also closely associated with Sudden Infant Death Syndrome (SIDS) cases. 

According to Dr. Piumelli, transcutaneous monitoring is very useful in supporting the detection of hypoventilation. In Dr. Piumelli's department transcutaneous monitoring is either used on a standalone basis or it is connected to cardio respiratory and polysomnography monitors.

Transcutaneous monitoring plays a differential role in patients with congenital central hypoventilation syndrome. Often, these patients receive noninvasive ventilation treatment for their lifetime. 

In such cases, "Transcutaneous monitoring plays a very important part in making adjustments of invasive and noninvasive ventilator settings for nocturnal monitoring of ventilation status," says Dr. Piumelli. 

"As part of their treatment, congenital central hypoventilation syndrome patients may undergo noninvasive ventilation and in these cases transcutaneous monitoring of pCO2 is preferable to end–tidal monitoring obtained through a nasal/oral sampling cannula worn under the mask."

Dr. Piumeli goes on to say, "For children with sleep disorders it is absolutely important to check real time pCO2 with transcutaneous monitoring because hypercapnia may lead to acidosis, which can damage the integrity of the central nervous system. This is especially vital with babies and children because their bodies are even more vulnerable."

He further states, "Transcutaneous monitoring is also important in the context of sleep studies because it reduces the trauma caused by multiple blood draws that would otherwise be necessary"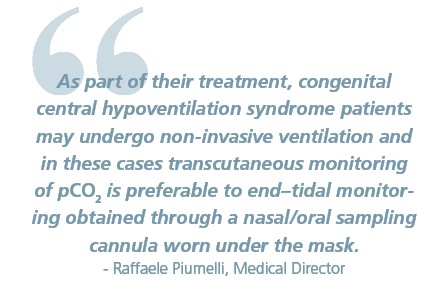 In addition to the benefits transcutaneous monitoring offers to patients, it also provides added peace of mind to physicians.

"It is vital during infant and child sleep studies to continually monitor and record SpO2 and pCO2 data. Simply monitoring SpO2 is not enough since it cannot detect CO2 retention, so using transcutaneous monitoring to continuously track pCO2 data is vital," reports Dr. Piumelli.

Dr. Piumelli concludes his feelings about transcutaneous monitoring by summarizing his primary points about its importance in conducting infant and child sleep studies.

"The continual, non-invasive monitoring of SpO2 and pCO2 data is essential to patient safety and physician confidence and peace of mind," reports Dr. Piumelli. "Especially when such young patients are vulnerable to the trauma of numerous blood draws needed to perform sporadic gas analysis."
"Moreover, continuous transcutaneous CO
2
monitoring plays a major role in reducing the incidence of acidosis resulting from hypercapnia, which of course can result in fatal outcomes that we simply must do everything we can to avoid."