The Hospital Order of St. Maurice stands out as an institution with areas of high specialization supported by an outstanding team of medical professionals that are dedicated to quality care and excellent patient outcomes.

Dr. Valter Gallo is a Pulmonologist at the facility's Semi Intensive Respiratory Department (SIRD). Over the last several years he has been involved in many emergency department situations in which COPD patients are admitted that need ventilation due to respiratory failure.

The SIRD receives patients from the surgery department, Intensive Care Unit (ICU), Emergency Department (ED) and critical respiratory patients from all other wards when needed. Dr. Valter Gallo's aim is to do whatever is possible to avoid patient intubation and re-intubation. 
In an attempt to avoid this, patients are often put on bi-level non-invasive ventilation, and CO2 and oxygenation are monitored closely.
"Especially in critical ill patients in an emergency situation you can find out if CO2 levels are rising much more quickly when using transcutaneous monitoring," reports Dr. Gallo.

"This allows us to gain control of a patient's situation immediately. Fast reaction to a change in a patient's clinical situation improves NIV therapy outcomes, which often eliminates the need for patient intubation." 

Dr. Gallo further states, "Transcutaneous monitoring gives us a very rapid response, so we know right away how to adjust the patient's ventilator settings."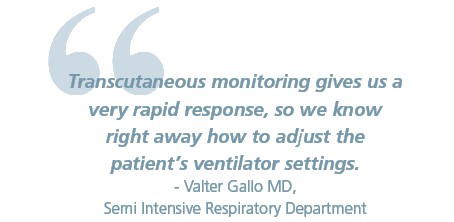 In addition, Dr. Gallo notes that with transcutaneous monitoring one may avoid performing a lot of blood gas analysis and still have full view of patient CO2 levels. "Every time you take samples through a catheter you have to draw a lot of blood," says Dr. Gallo.
"In fact, I have seen patients who had to have blood transfusions because they had so much blood drawn over a period of several days due to gas analysis. Transcutaneous monitoring eliminates this needless situation for patients."

Emanuele Isnardi, Pulmonary Function Technician, has worked for several years in the respiratory department. He plays a key role in implementing transcutaneous monitoring as its use continues to increase within the department. "Transcutaneous monitoring is a very friendly method for the patient and the operator," notes Mr. Isnardi.

"It is an easy-to-use portable device that allows for a substantial reduction in blood gas analysis, and time for ventilator adjustment settings for the patient."
The simple fact that patients are in an emergency setting means they've already experienced a certain level of trauma. Transcutaneous monitoring minimizes further trauma because CO2 levels can be monitored continuously through a much less invasive technique.
While transcutaneous monitoring offers such clear benefits to patients, it also makes life easier for Emergency Department physicians. "With transcutaneous monitoring there is no waiting or guesswork involved in knowing which way a patient's blood gases may be moving," states Dr. Gallo. 
"We can monitor CO
2
and oxygen levels moment by moment. This gives us a great advantage and much more assurance because we know exactly where we are with our levels at all times."
Dr. Gallo also believes that transcutaneous monitoring is essential when treating Emergency Department patients who are undergoing oxygen therapy.
"CO
2
levels can accumulate and rise rapidly in oxygen therapy patients and this cannot be monitored with SpO
2
– only with blood gases".
Looking into the future beyond the Emergency Department setting, Dr. Gallo sees transcutaneous monitoring playing an important role in home health care situations.
"It is difficult to track blood measurements for home healthcare patients, especially those with neuromuscular diseases that limit physical movement," says Dr. Gallo. "However, I believe in the future transcutaneous monitoring can become an important part of home healthcare".