The University Hospital in Angers is a prestigious medical facility set in the heart of the Pays de la Loire region. It combines many areas of clinical specialization that are fully supported by a highly-acclaimed team of outstanding medical professionals who are committed to achieving excellent patient outcomes. 
Pr. Pierre Abraham, a Professor of physiology and cardiology, expert on vascular medicine, works in a laboratory within the hospital where he performs vascular exercise investigations. He uses transcutaneous monitoring of tcpO2 during walking exercises as a diagnostic test for patients with claudication, in addition to those who have critical and severe ischemic disease.
"The issue we face is when we conduct patient research for claudication. Quite often, classic non invasive approaches, such as ultrasound and ankle pressure measurement are limited and fail to prove the vascular origin of a patient's claudication," states Pr. Abraham.   
He further states, "One reason for this is that the classic exercise approach entails measuring ankle pressure on the calf before and after the walking exercises— but not throughout the exercise. A great benefit of augmenting the classic approach with transcutaneous monitoring is that it can be used throughout the exercise as we attempt to reproduce a patient's symptoms—with specific interest in tcpO2 levels." 
Pr. Abraham continues by saying, "Transcutaneous monitoring also allows us to measure tcpO2 levels during exercise at the buttocks level.This is important because when you measure pressure only at the ankle in case of so-called buttock claudication, what you measure is the residual pressure in the artery that may be decreased because there is a lesion on the artery going to the ankle.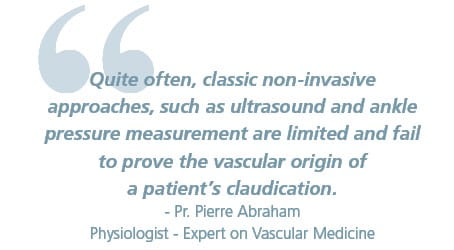 So you may not be collecting data that is complete enough to draw accurate conclusions."  In addition, Pr. Abraham points out that when there is an injury on the branch, such as the hypogastric artery, it can be very difficult to visualize it with ultrasound imaging. 
"We can monitor throughout exercise the consequences of lesions on this branch, which will result in no changes if you only measure ankle pressure because it's on the branch and not on the axis." 
Another challenge transcutaneous monitoring helps Pr. Abraham to overcome is a situation in which a patient can have an occluded artery and suffer no claudication or ischemia if the collateral vessels compensate for the occlusion. In such instances, the presence of a stenosis or the occlusion of an artery is not proof that either is responsible for patient impairment during walking. 
"What we believe now in our lab is that the transcutaneous monitoring of oximetry (tcpO2) throughout diagnostic exercise tests is the most accurate way of arguing for or against the arterial origin of exercise related pain, specifically when the exercise pain is in the lower back or buttocks," reports Pr. Abraham. 
Pr. Abraham points out that transcutaneous monitoring does not completely replace the classic approach, although he quickly adds, "However, there are areas in vascular investigations where classic techniques— primarily ultrasound—have failed to prove a vascular origin. And then the next step traditionally has been to refer those patients out for invasive radiological imaging, which can include some substantial costs and risks." 
He goes on saying, "Fortunately, transcutaneous monitoring has enabled us to accurately diagnose many more patients so we can better select those to be referred for invasive imaging. We've tested other approaches but have failed to achieve better and more accurate results than the ones we have with transcutaneous monitoring." 
Pr. Abraham concludes by saying, "In my opinion, transcutaneous monitoring is the only method that integrates oxygen delivery to muscles as compared to the vascular classical approach that measures only flow. And what counts for the muscle during walking is not flow, it is oxygen."